Video Guide
Written Guide
Why Use Events:
- Events are perfect for group appointments where you want the attendees to sign up, like a public fitness class.
- Events are also great as live webinar sign up pages
- Events are great as lead magnet sign up pages where an event is the lead magnet or even access to a special file you get at the event/webinar might be the lead magnet (you can setup a smart action to send a file on an event).
Steps:
1. In the appointments section on Practice, click on the plus / + in the top right corner and click Create New Event.

2. Add an engaging title that captures your prospective attendees attention and a description that delivers a summary of the value they'll be receiving. Choose a cool icon you like.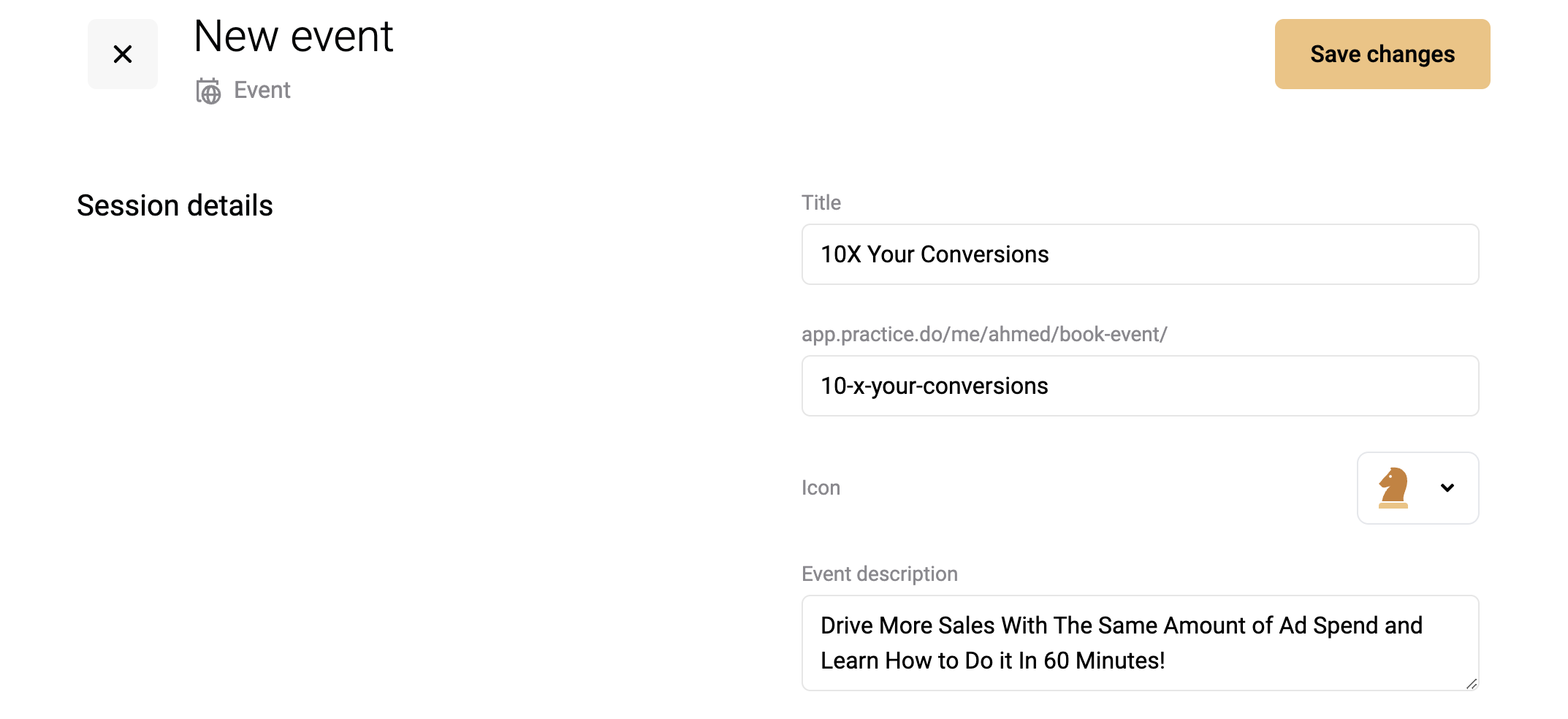 3. Decide if you want to limit the number of attendees and set the length of the event. Just click the toggle to limit the number of attendees, and just type a number in representing the amount of people to limit it to, like 10, for 10 people, or 20, for 20 people. If you choose a custom length, just remember its in minutes, so you would enter 120 for 120 minutes or 2 hours.

4. Choose a date and time that gives your attendees enough time to prepare and find the link to the event ( we do like to think we make it easy because we show it in 3 places, but the first time around is hard for everyone )

5. Choose what medium you want to host the event through, whether it be zoom, google meet, or a link of your own with the custom video link option.

6. Decide whether you want to charge for this event, which will request payment from each prospective attendee prior to confirming their exclusive attendance.

7. Setup smart actions at the bottom of the event creation page in the smart actions section by clicking on the plus. Smart actions are automations you want to be carried out for every event and for every attendee.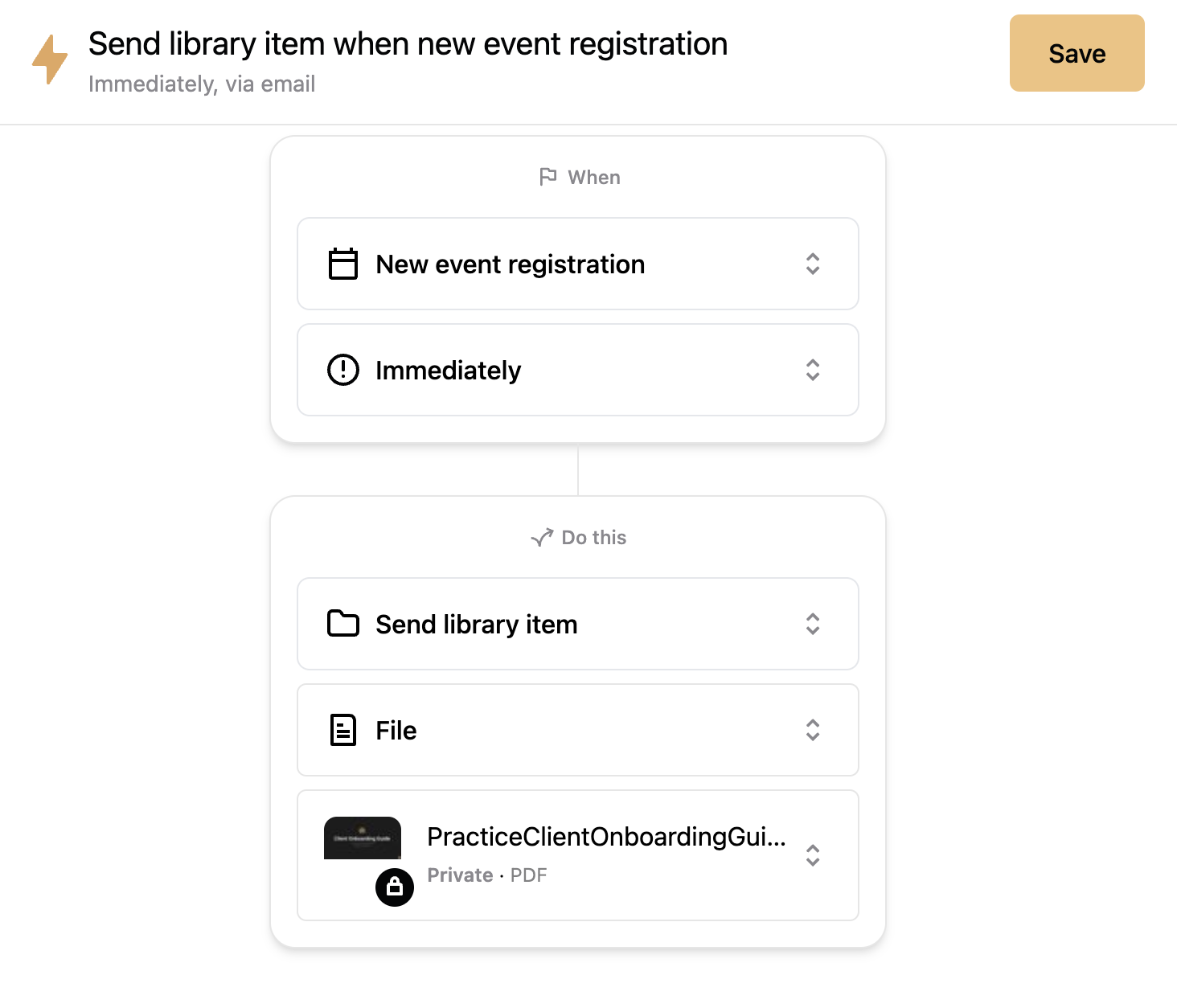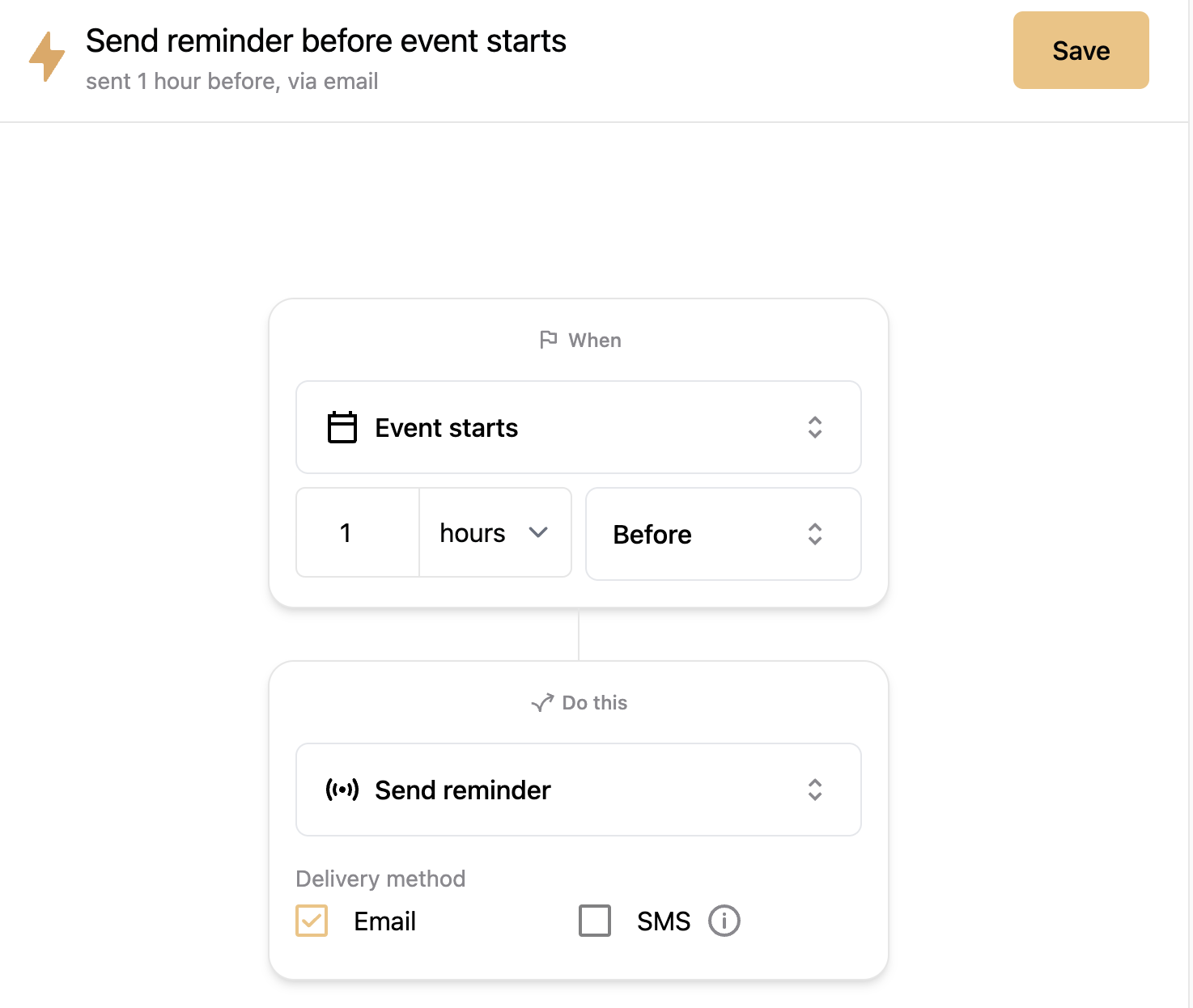 8. Review your choices (please make sure to review, so easy to overlook something, although most fields are editable post-creation except smart actions) and hit save changes in the top right to finish creation of your event.

9. Now your event is created, you have access to the location link of the event, which is different than the event link and sign up page. The location link is like the zoom link you will all eventually attend, but the link to the event sign up page can be found by clicking share in the top right corner and copy link.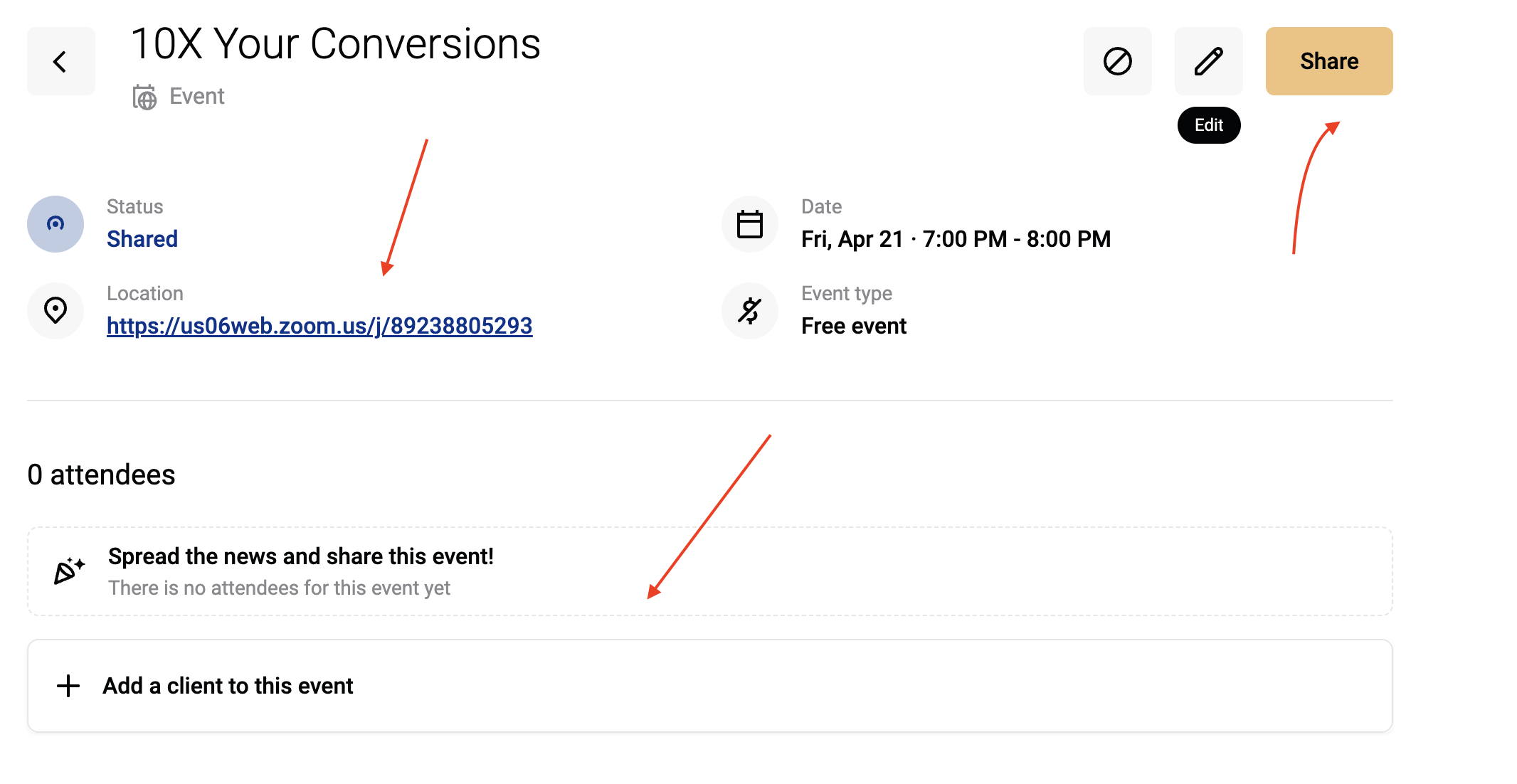 10. You can grab a public link to the event by clicking copy link, or share it with a specific client by choosing a client, then choosing whether you want to share it by email or Practice chat, and clicking send.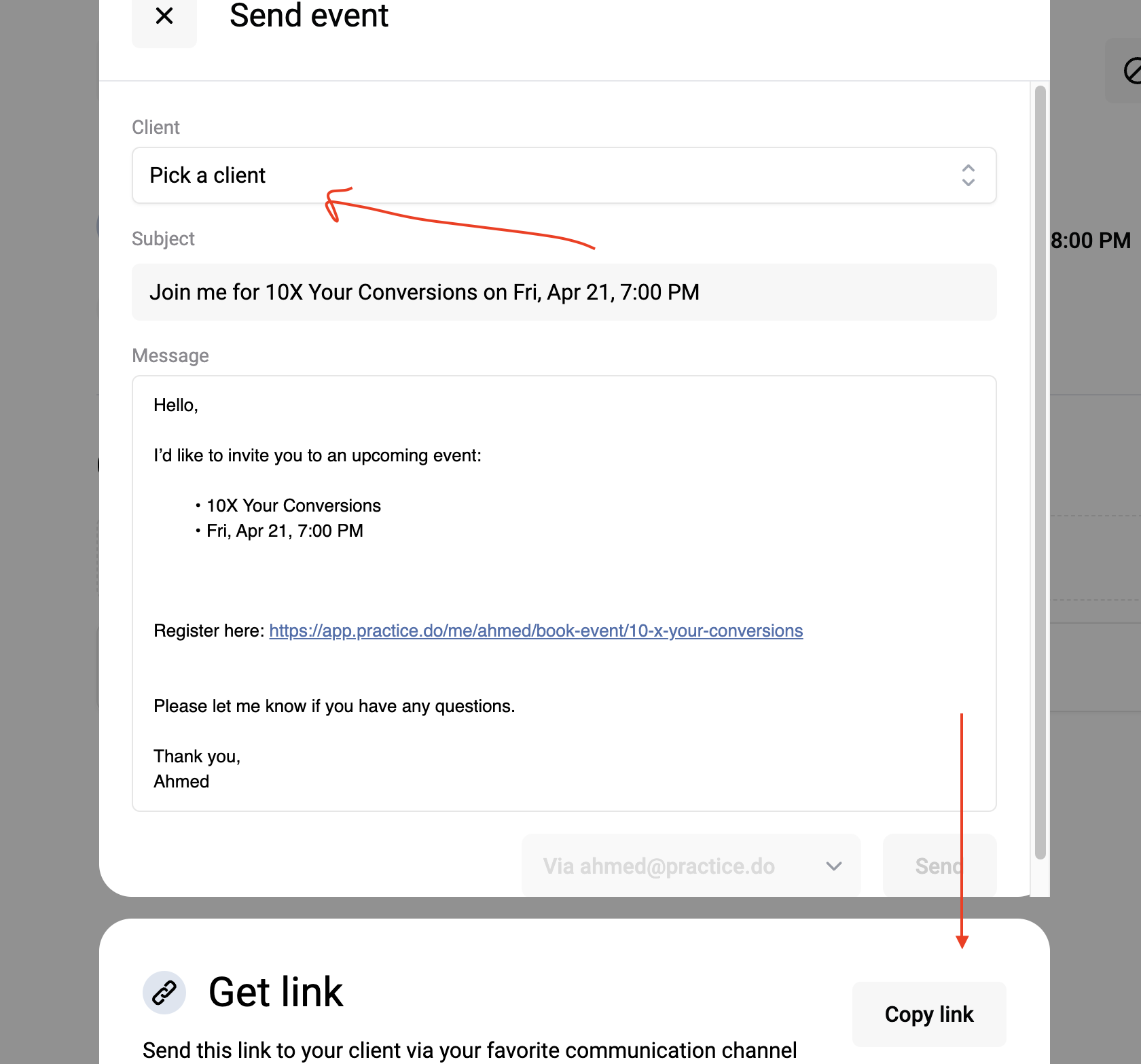 11. You can also manually add attendees if you'd like, and keep in mind, this is where you'll see all the attendees. Attendees will see each other as attendees through google calendar, but not through Practice.

12. Visiting the event sign up page will show your title, description, icon, medium, price or no price, date, and the sign up form. Following this, prospective attendees will either pay to confirm if you've enabled payment collection, or be shown the confirmation page.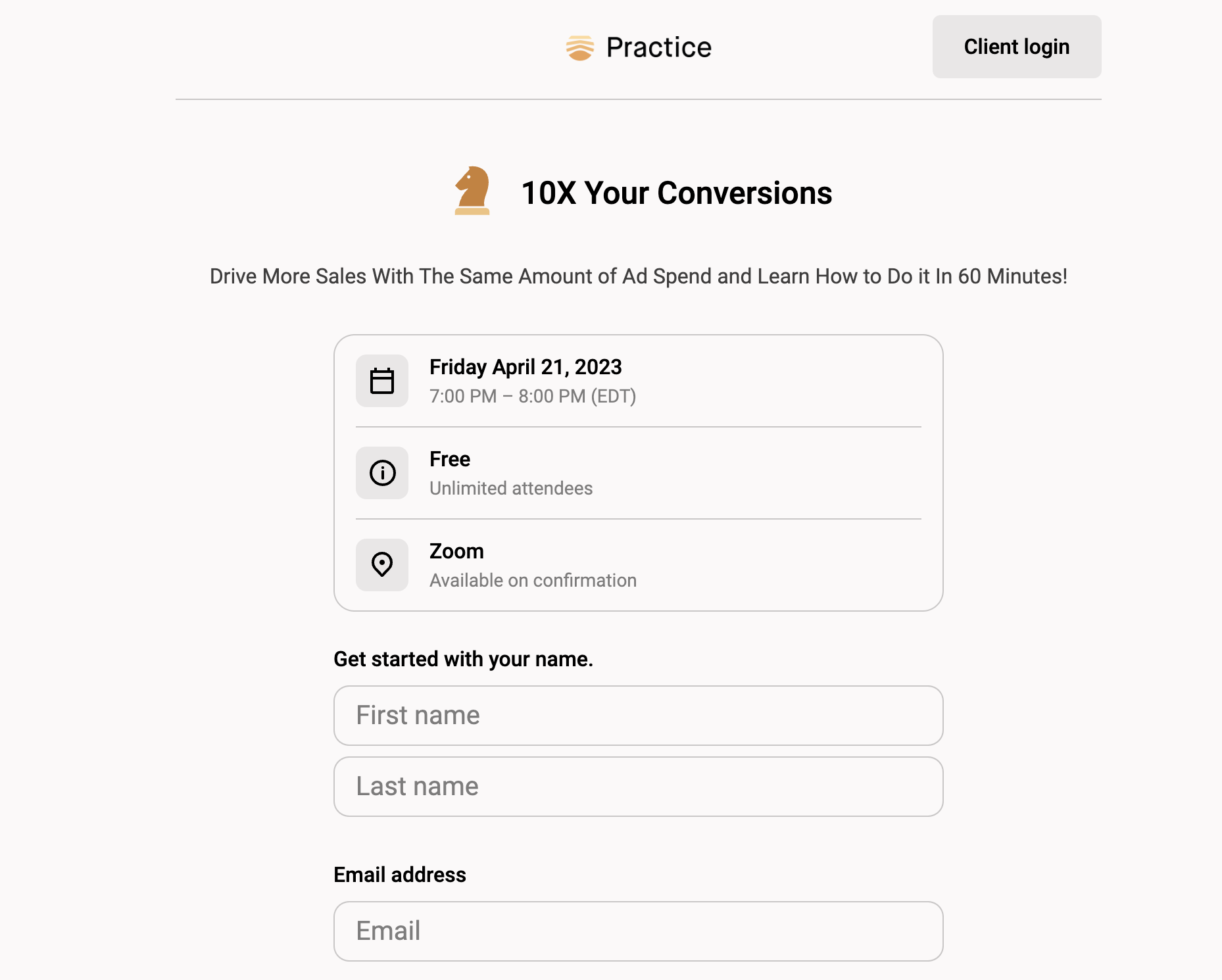 13. Here's what the confirmation page looks like whether you collect payment or not. It will show the attendee the date and time, the price or no price, the location and link, and allow them to edit their event ticket. Your logo and client login may show at the top depending on whether you enable these features.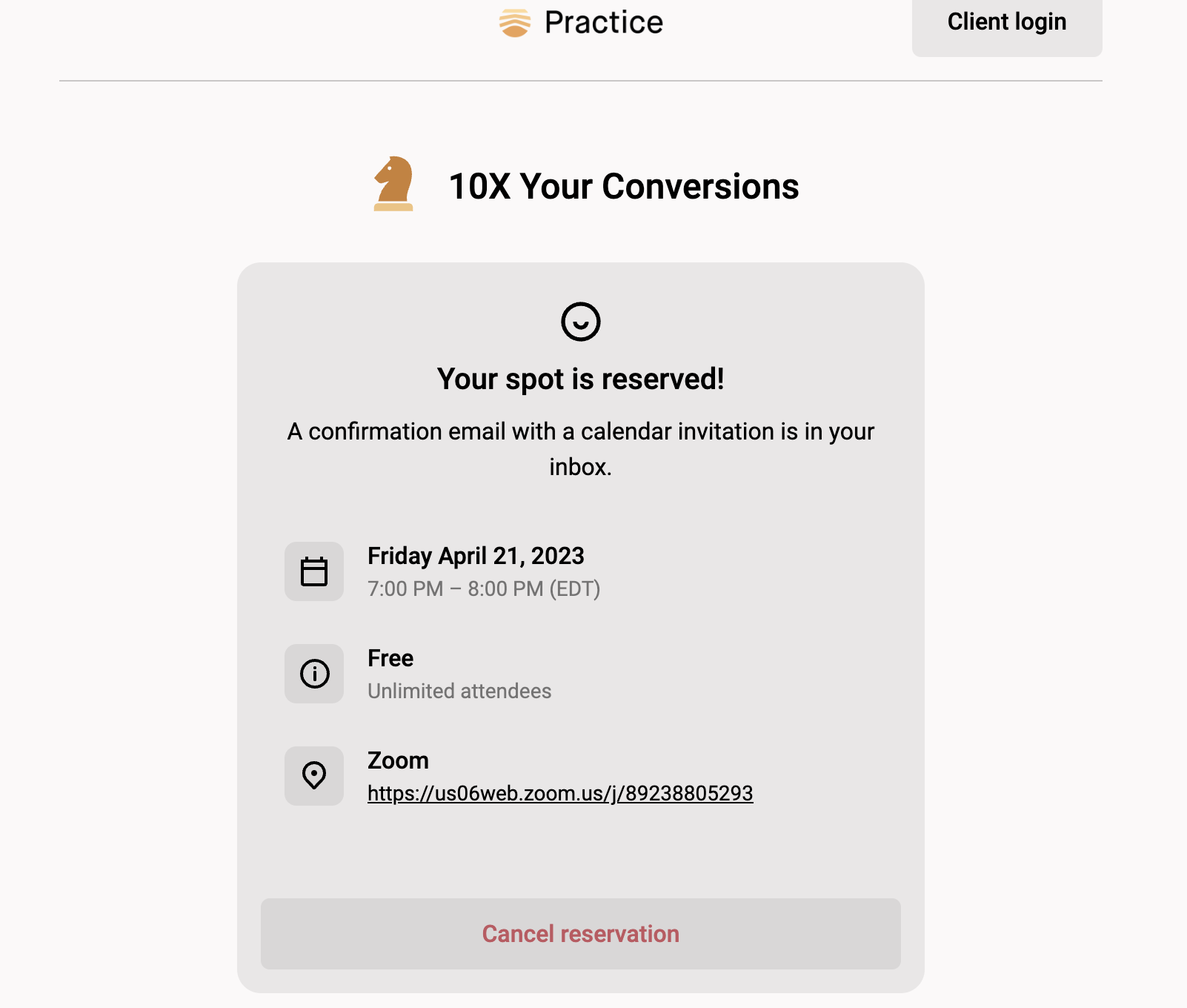 14. You'll receive a confirmation email for every new even sign up and they'll automatically be added to your client-book on Practice, or their existing client record will be updated with their attendance.